Building Resilient Careers and Organizations.™
I/O Psychology is the scientific study of human behaviour in the workplace.
Get in touch today to find out how we can help you build a better career or a stronger organization.
ABOUT DR. HELEN OFOSU
I believe that in good times and bad, resilience is one of the major keys to success.
That's why my approach to career coaching and executive coaching is to help people get ahead in a way that insulates them from future setbacks. It's also why, as a consultant, I aim to help organizations become stronger and more resilient, so they are ready for both the predictable and unforeseen challenges that all organizations face at some point.
I believe that people and organizations that appreciate the level of precision and care that I can provide should have access to it – high-calibre services should not be reserved only for members of the Fortune 500.
What sets me apart from many career and executive coaches is my experience on the inside of the federal government and my understanding of their HR processes and systems.
The stakes are high for my clients, and I can offer insights and customized services that few others can deliver – I have helped develop many hiring tools over the years!
My inside experience gives my clients an edge in getting hired and promoted in the public (and private) sector, and in managing their careers as they progress. I co-designed and co-created many of the competency and behaviour-based assessments, structured interviews, role plays, simulations and online psychometric tests used to screen candidates for federal government jobs.
I enjoy bringing my knowledge, lived experience, sensitivity, and sense of humour to my career consultations, executive coaching, training, and HR work.
And as an Industrial/Organizational Psychologist, I take an evidence-based approach by using the latest research and best practices to increase the odds of my clients' success.
DR. HELEN OFOSU'S WORK EXPERIENCE
Before launching I/O Advisory Services in 2012, I worked in Ottawa for the Public Service Commission; the Department of Foreign Affairs and International Trade (now Global Affairs Canada); and the Department of National Defense.
My work was recognized with three national awards:
Head of the Public Service Award,
Public Service Award of Excellence, &
President of the Public Service Commission Award.
I also have significant private sector HR Consulting experience in the legal, advertising/branding, logistics, and real estate fields, and have acted as a consultant and advisor for many entrepreneurs in launching businesses.
You can click here to see some of the many clients I've supported over the years.
I am also an Adjunct Professor of Psychology at Carleton University in Ottawa, where I deliver guest lectures and enjoy mentoring the next generation of aspiring psychologists.
I am a freelance Executive Contributor at Brainz Magazine. I was invited to write articles about mindset, business, diversity, equity, and inclusion, and leadership. To learn more and see what I've written for Brainz, click here.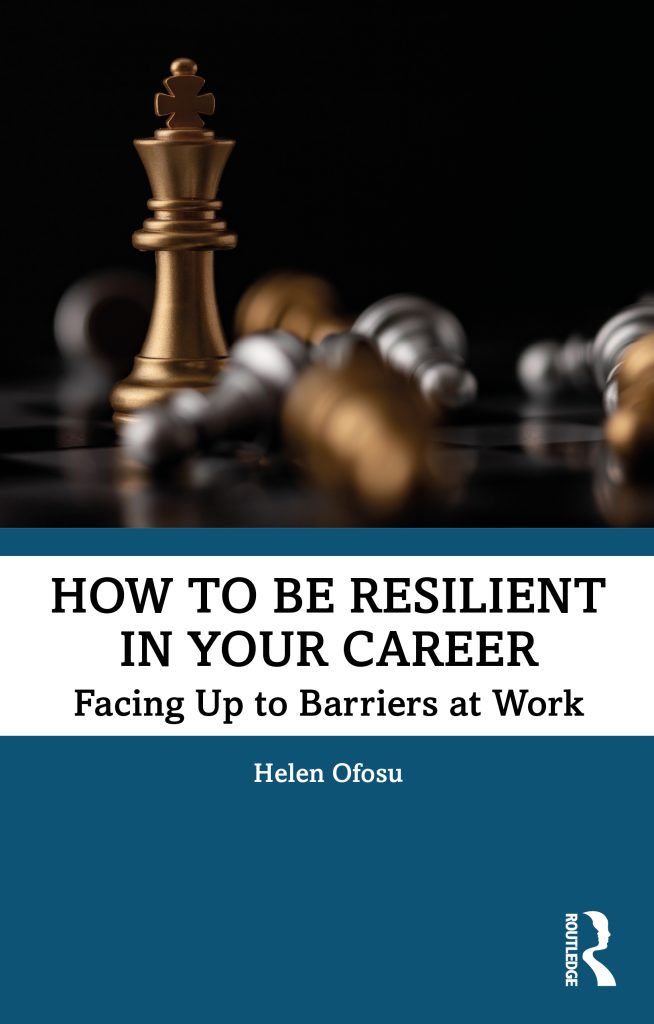 In February 2023, my first book How to be Resilient in Your Career: Facing Up to Barriers at Work was published by Routledge, the same company that published giants in Psychology Carl Jung and Sigmund Freud (… not to mention Albert Einstein).
Recommendations, reviews and testimonials may be found on my Linkedin profile and my Google My Business/Review page.
COMMUNITY INVOLVEMENT
In 2023, I was appointed to the Advisory Board of Black Mental Health Canada, a volunteer, non-profit, community-based organization  founded in 2019 to help meet the mental health needs of the diverse Black communities in Canada.
In 2022, I was a member of the Board of Directors of the Canadian Black Chamber of Commerce where l was active in Government Relations, and matters related to human resources and other areas that are in my wheelhouse.
In December 2021, I was one of five founding officers of a new section of the Canadian Psychological Association (CPA) that focuses on Black Psychology. This is an important step toward improving the representation of Black graduate students, faculty, and practitioners of psychology in Canada. In the first year I served as the Chair-Elect, and in the Sections second year, I will be the Chair.
I'm proud to have been instrumental in drafting the proposal that's leading to the creation of the Canadian Institute for People of African Descent (CIPAD), a national think tank that will address issues including employment, entrepreneurship, health, justice and policing, etc. from the Black perspective.
I am also a member of Zonta International and served as the VP of the Zonta Club of Ottawa in 2015 and 2016. From 2017 to 2019, I was the VP of the Zonta eClub of Canada.
WORK WITH DR. HELEN OFOSU
Click on the Services tab to find out more about what I do, or reach out for a free initial consultation.